At the Early Childhood School of Georgetown we believe in creating an atmosphere where parents, teachers and children are learning and growing with each other.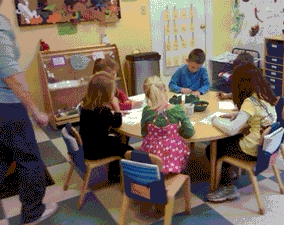 Early Childhood School of Georgetown's team consists of a group of like-minded educators, who are excited to welcome you and your family to become part of ours as well! We have worked hard to make our community a home away from home for our families.  At ECSG, your children will have a feeling of safety and confidence that nurtures a natural urge for exploration, discovery and self-growth.
As we are dedicated to consistently providing the best in early childhood education and care, we make it a point to stay current on best practices, child-developmental pedagogies and developmental benchmarks. We believe in small group, process-orientated instruction and constant, clear communication between our families and our educators. It is this prior experience, combined with our knowledge and implementation of Massachusetts State Frameworks for early childhood education that will ensure your child a seamless transition into his or her school age experience.
It is our goal that family, school and community work together as a unified team to enrich your child's development. In this spirit of collaboration, our office door is always open for feedback or discussion. We always enjoy the opportunity to provide prospective parents with a tour of our early childhood school, so that you see the joy and wonder of hands-on learning!
Classroom Space
All the children spend their day in a happy and engaging environment designed to enhance and support children's cognitive, social, emotional and physical growth and development, ensuring learning occurs in all areas.
We offer comfortable, clean and engaging spaces in our home-like environment.
Our updated, well-maintained classrooms are designed to facilitate learning, and encourage creativity and spark the joy and wonder of learning for all!